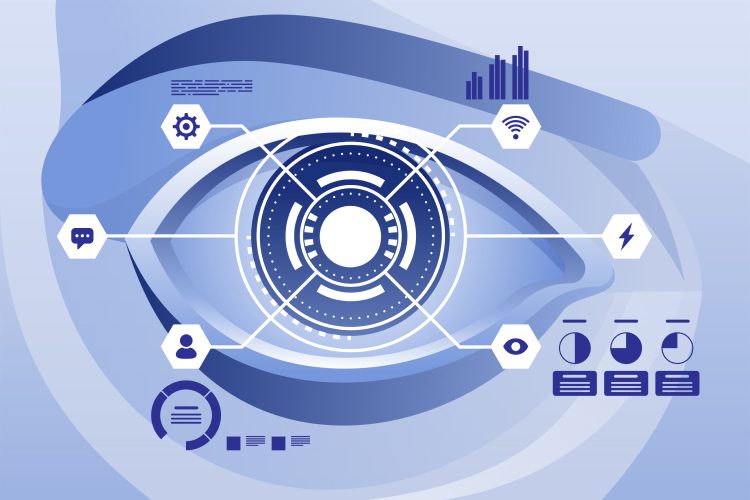 Revolutionizing Retail With Computer Vision & Deep Learning
During the 1970s when the concept of Computer Vision was first introduced, there weren't enough human and technological resources to bring the ideas to reality. With the exponential amounts of data generated in recent years, there is a tremendous leap in technology that has put Artificial Intelligence and Computer Vision in the front seat for many industrial applications.
According to GlobalData, the Computer Vision technology will find innumerable applications across various industries leading to its vast adaptability and reaching an estimated market size of US$28 billion by 2030 – a steep rise from US$3.5 billion in 2019.
The below graph from Statista throws some light on global Computer Vision's market revenues, by the application, for the period of 2015 – 2019.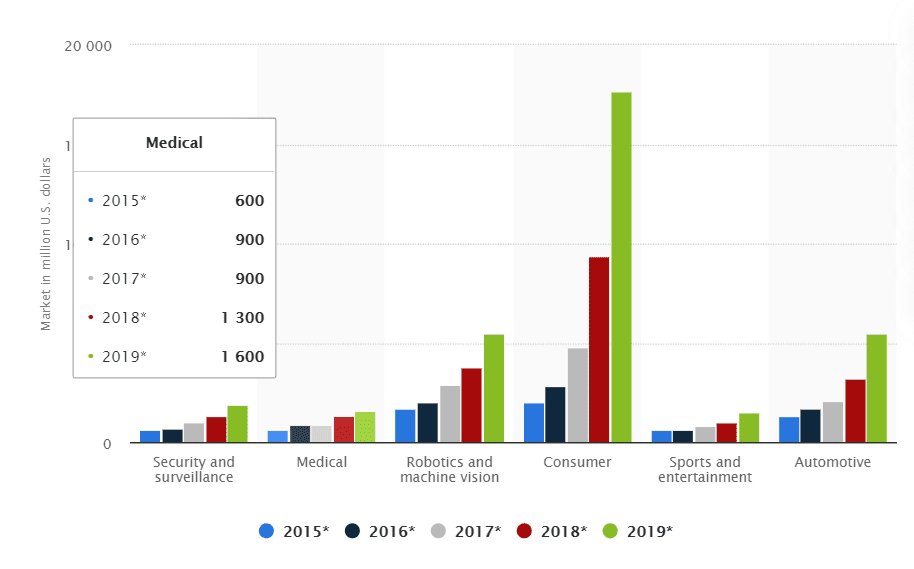 Source – Statista
Present & Future Applications of Computer Vision In Retail
AI, Computer Vision, and Deep Learning technologies ease the concepts of personalization, improve logistics, provide sustainable manufacturing processes, enhance supply chain processes, drive efficiency and speed – all critical for a retail company to stay afloat in a competitive marketplace.
Over 3 billion images and 700,000 hours of videos are being shared daily across multiple social media channels like Facebook, Snapchat, Instagram, Whatsapp, etc. Industries and enterprises are adopting Computer Vision and Deep Learning technologies to harness them and extract actionable intelligence.
Understanding the real sentiment of the customers about a brand and its products is becoming increasingly vital to improving customer experience, tweaking products and services, enhancing personalization, and improving delivery services.
Emotion detection, visual search, personalization, recommendations, intelligent task automation, demand forecasting, optimized resource allocations, etc., are the areas where Artificial Intelligence, Computer Vision, and Deep Learning can make retailers more efficient, resilient, and better able to serve customers. Convolutional Neural Networks (CNNs), specifically, are applied to identify faces, objects, monitor and analyze traffic, along with powering robots and driverless vehicles.
Heatmaps, a Must-Have for Retailers
Heatmaps are graphical visualization of data that uses colors to depict the strength and magnitude of the occurrence of a phenomenon. Heatmap analytics help retailers in understanding customer behavior and optimize their path by converting them from a visitor to a customer.
How do heatmaps work?
Cameras capture images that are processed by Computer Vision to detect, track, and analyze the movements of the patrons. They provide detailed and comprehensive insights into the activity of people within the store. This helps the retailers to understand the reasons behind the successful performance of certain zones and integrate this intelligence with other zones of the store to see similar or better results.
Computer Vision powered heatmap software packages generate heatmaps based on the movement, density of the people in the store, and the products they touch. This will help gain insights on which product lines and zones are performing better.
Insights from heatmaps help –
– Track customer footfall and understand their behavior.
– In-store analytics that helps in improving store design, product placements, lighting, positioning of shelves, etc.
– Increase the sales of promotional products from the insights provided by heatmap analytics.
– Optimize customers' waiting time during the course of the day and optimize the labor and maintenance costs.
– Optimally allocate resources according to the hot and cold zones provided by heatmap analysis.
– Exclude unattractive and under-performing products from popular zones and improve transaction rates.
– Enhanced marketing strategies and profit margins by analyzing the success and effectiveness of the events, promotional activities, campaigns, etc.
Self-Checkouts, for Faster and Better Service Delivery
Computer Vision, Machine Vision, Deep Learning, and Artificial Intelligence are advancing the self-checkout process phenomenally by replacing the traditional method of automatic checkouts of scanning the barcodes of the products purchased. The automated system recognizes the products and bills the customers accordingly. A few self-checkout systems use facial recognition technology to recognize faces. Other technologies that are often leveraged for an AI and Computer Vision powered self-checkout system include video and image processing, robust feature extractors, Deep Learning, object detection, and object counting.
Self-checkouts –
– Are fast and convenient in-store self-checkouts that ensure the growth of store attendance, the checkout conversion rate, and the average shopping cart price that increases the store profits.
– Reduce the losses due to checkout shrink
– Attract more customers and enhance customer-retailer relationships.
– Encourage responsive store management allowing the staff to do more service-oriented activities in the store.
Amazon Go allows its customers to pay for the products without the need for a checkout. The eCommerce giant uses Computer Vision-powered facial recognition cameras that monitor the products taken from the shelves and placed in the shopping cart. When the customer leaves the stores, the payment is billed to their Amazon account.
Another such example is McDonalds. The fast-food company introduced self-service kiosks in 2017. These kiosks are the touch screen and allow customers to scroll through their menu to place orders without interacting with their staff. This creates a smooth and good experience for the customers.
Smart Product Information Management
A centralized product information management (PIM) system manages all the information of the products including their descriptions, properties, categories, attributes, etc., – in real-time and helps improve the accuracy of the retail store.
Further, a smart PIM should cover various aspects of the products like providing detailed answers for customer queries, customer reviews, keywords that improve search engine optimization, customer data to improve personalization, etc. Computer Vision and Deep Learning-powered PIM systems use facial recognition to keep track of regular customers along with their purchasing behavior to send targeted product promotions and discounts.
A smart PIM will-
– Detect the objects in the images or the videos that the customers engage with and create a holistic persona of the buyers.
– Improve in-store and warehouse product management, thereby, improving employee productivity, customer engagement, and customer experience.
– Perform efficient inventory management operations based on geographical locations, product features, customer segments, etc.
– Offer more personalized services by understanding customer preferences.
– Enable to make better business decisions by uncovering the performances of all the products.
Virtual Mirrors
Deloitte studies that around 90% of retail sales happen in physical stores. However, to compete with the increasing demand for online shopping (where convenience and endless aisle assortment are offered), enhanced customer experiences and brand engagement are crucial.
Smart or virtual mirrors are mirrors with an electronic display simulating the process of trying garments or accessories and the display provides the customer different kinds of information. These mirrors are powered by Computer Vision and Augmented Reality technologies.
Computer Vision-powered cameras and scanners capture the customer's size and shape to enable it as a virtual mannequin displayed on the screen of virtual mirrors. These mirrors can also recognize the customer commands as they use gesture recognition algorithms. A virtual shopping cart allows the customers to add to the cart if they like what they tried for later payment and check out.
An example of this is Microsoft Kinect. It is a Windows virtual mirror that allows shoppers to engage with products, try them on, change different variations of the outfits upon the shoppers' voice commands, and purchase the products. It also uses social media for additional marketing reach.
Virtual mirrors benefit the retailers by –
– Increasing in-store and online sales with respect to the rapidly changing shopping behaviors.
– Enhancing customer retention and increasing the return-store visits of shoppers by creating differentiated and unique in-store experiences.
– Increasing the in-store and online conversion rates by allowing shoppers to interact with their friends and family who influence their purchase decisions.
– Enable better merchandising and decisions by the insights gained from customer preferences, choices, and decisions.
Redefined Security and Surveillance
Many brick-and-mortar stores are still flourishing in the global retail markets even after the explosion of online shopping trends. The majority of these physical stores face the problem of shoplifters, refund scams, customer theft, etc.
According to Dell, the US retailers lose nearly $50 billion a year in inventory loss. There are various drivers for this problem, but most of the impact occurs at the Point-of-Sales (PoS).
The increasing and improving accuracy of Computer Vision and Deep Learning models provide intelligent loss prevention solutions. High-resolution cameras, computers, data storage, and AI-powered software will help detect employee and customer behavior associated with inventory loss.
A smart surveillance solution with high-resolution and Computer Vision-powered cameras powered helps retailers with efficient identification and processing of faces in their stores. It automates and emulates the cognitive processes of human vision systems. The analytics drawn from these videos provide insightful data on customer behavior in ways that do not need complex permissions and expensive gear.
Video analytics –
– Provide better operational and branding insights along with valuable customer intelligence.
– Help retailers in understanding where and how much time customers are spending on interacting with products and displays.
– Improve operational and administrative control by minimizing frauds and thefts, manage shrinkage, and better inventory prediction.
– Provide real-time as well as offline insights on customer behavior interacting with the ads and displays, thus, helping improve sales.
Though the advent of online retail has reshaped the retail industry tremendously, many people still prefer to visit the retail stores as they want to try out the products before they purchase them. The challenge of offering great customer service and creating a personalized shopping experience still hinders on the shoulders of retailers and this can be addressed by leveraging Artificial Intelligence and Computer Vision technologies.
Computer Vision allows retailers to speed up operations like shelf management, payments, data collection, compliance, etc., and transform customer experiences. The technology can be collaborated with the Internet of Things (IoT) to monitor the stores, spot suspicious behavior, and deter theft.
Computer Vision has come a long way from categorizing images to recognizing faces and adding AR/VR capabilities. And thus, today the scope of application of Computer Vision is diversified and is implemented in almost every industry – from defense to manufacturing to healthcare, retail, agriculture, security, and transportation.
---