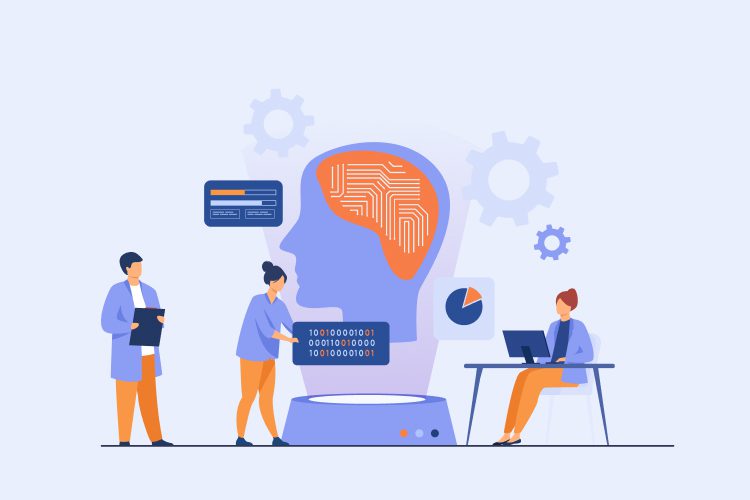 No-Code ML Platforms: The Future of Application Development
Machine Learning (ML) platforms or modern app platforms are a recent disruption transforming the evolution of no-code applications. As businesses across the globe are opting for a faster development time and lower operating costs, the low-code application platforms are becoming more than a trend. Streamlining the low code platforms over time is advancing the use cases of ML applications and helping in performing off-the-shelf pre-trained machine learning models.
With increasing growth, machine learning is becoming more accessible than ever before. Analysts at Gartner predict that the low-code application platforms are compounding at a value of 23% yearly on a global market level and are expected to reach $30 billion by 2025. Modernizing the current business process to workflow applications, web and mobile front ends, customer-facing applications, machine learning platforms are widely used for applications development. In this post, you will explore how machine learning platforms work, their evolution, prominence, benefits, and challenges.
How do Low-Code ML platforms work?
With traditional application development, programmers need to personalize and write every line of code to develop functions and features in a computer application. That demands programmers to have deep knowledge about computer languages, development environments, deployment architectures, and testing protocols, which usually consumes time around the clock. But with low-code platforms, the users can visually select and connect reusable components that represent particular applications architecture to create a desired computerized program workflow.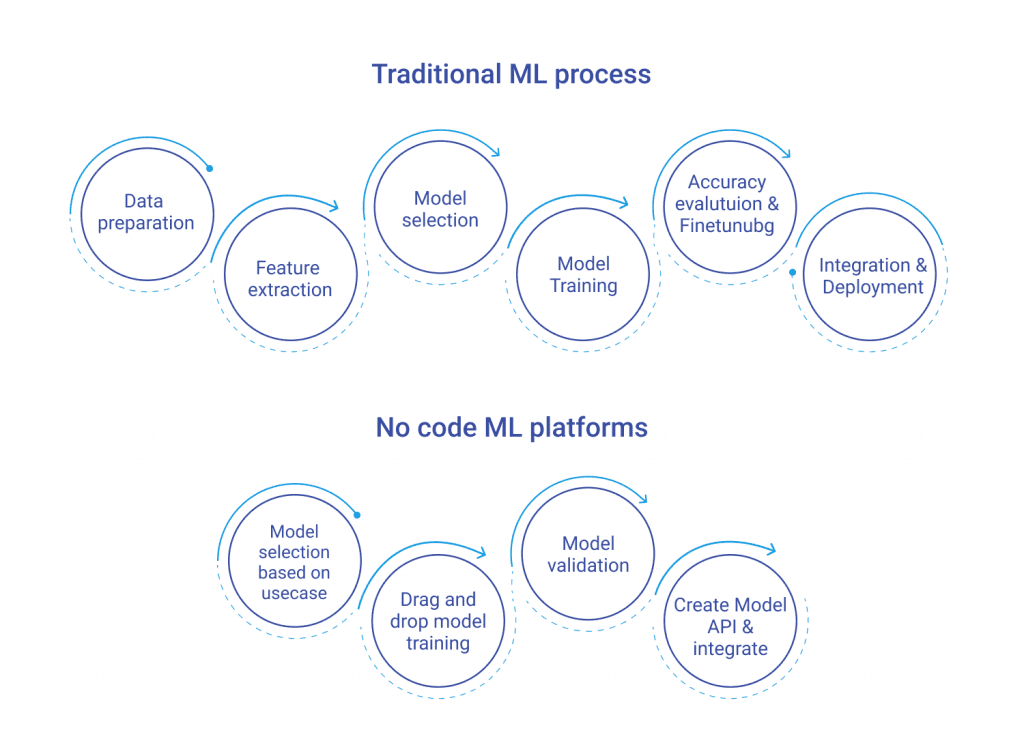 Similarly, Auto ML platforms provide the advantage through a point-and-click method in generating machine learning models without any coding in the background. And results mirror the similar architecture of computer applications in the real world as every component is individually coded. Every no-code application or ML platform has features that allow for experimenting, prototyping, testing, and deployment.
For instance, DeepLobe, our machine learning platform, helps users in immersing personalized, reliable, and agile APIs for their business. Our model development platform greatly simplifies application development by reducing the time and cost of creating ML models for businesses with all levels of ML maturity.
Challenges and Uses
For most businesses, machine learning seems close to the complex, expensive, and talent-demanding technology. Either you're aiming to build a recommendation engine or a machine learning API to harness your real-time social informatics, machine learning platforms can be great initiatives without much investment and infrastructure needs. To help you further, we have discussed a few vital points with comparison to traditional machine learning application developments.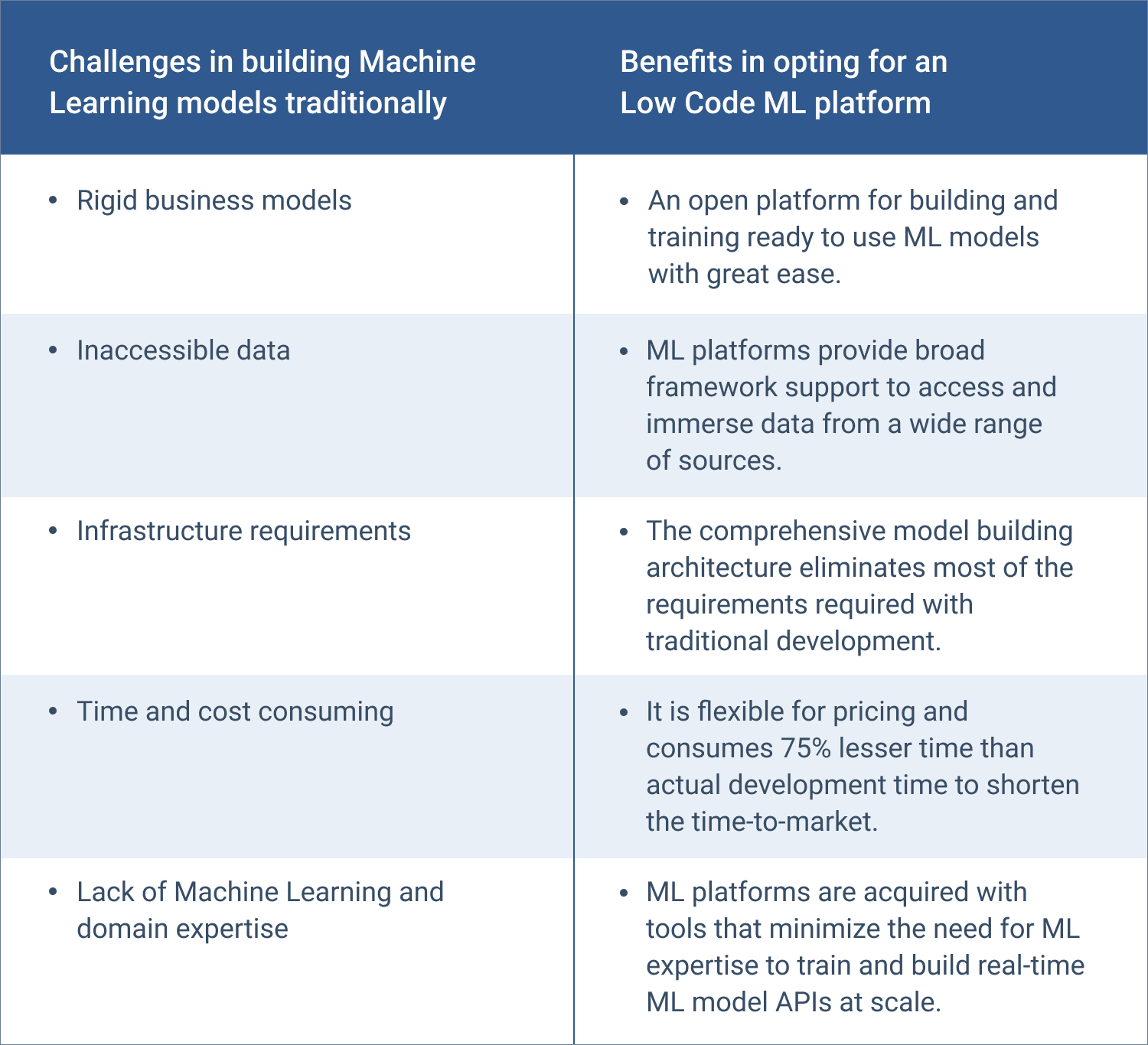 Low-code ML application platforms for enterprises: prominence
Earlier in this blog, we have discovered the challenges and benefits of using low-code machine learning applications for any organization. Using low-code ML application platforms, businesses across the globe can create various AI-powered business apps, dashboards, data harnessing tools, etc., or they can purely leverage this technological advancement for technical purposes. As these application platforms have no complex programming requirements, they are sustainable for every business to experiment and learn more about its advantage. Using these ML platforms to develop apps aimed at enhancing operational efficiencies can contribute to business success.
Nowadays, with advanced digital intelligent technologies like IoT and AI, these applications are scaled to migrate applications across Cloud interfaces to create streamlined architecture. The importance of low-code ML application platforms is increasing every day as businesses employ and promote their growth. Here are a few reasons to notify how businesses are getting benefited and why we are experiencing tremendous growth of ML platforms over time.
Get value faster: Using low-code ML platforms, the business users, professionals, engineers, and IT always build applications under agile environments that boost productivity by optimizing the development time in defining core elements and components.
Operationalize and scale: Managing and operating low-code machine learning environments from one comprehensive dashboard ensures and empowers IT professionals to develop every app within organizations' guardrails.
Automated intelligently: Leveraging intelligent automation tools cut costs and mitigate complex business processes by bringing people, processes, and systems together.
DevOps made easy: The majority of the low-code ML application platforms available today are providing out-of-the-box DevOps capabilities for continuous integration, deployment, and delivery updates.
Why Machine Learning APIs as a Service
Machine learning API as a service covers most of the infrastructure issues with data pre-processing, model training, model building, and model evaluation to scale and optimize business-specific needs. ML platforms can be leveraged on your cloud and on-premise services to fasten the model development and deployment time. And further, the developed machine learning models can be immersed with your internal IT infrastructure through REST APIs.
The low code ML platform with machine learning APIs as a service provides the opportunity and power to train, integrate, and experiment with a wide range of machine learning models to suit a business-specific corporate infrastructure. Machine Learning API as a service platform itself creates a bridge between data scientists with ML/DL expertise and businesses looking for resources with domain and data science expertise. ML platforms also provide room for improvement and personalization to meet the requirements and objectives of specific machine learning models.
However, It is easy to get confused with a variety of machine learning services available today. But knowing your needs and the required skill sets to work with distinct algorithms helps in winning a competitive advantage.
DeepLobe, being a machine learning API as a service platform, can help your organization in building low-code machine vision models as APIs that scale your business opportunities by harnessing unstructured data (like text, images, and videos). Our application platform provides an agile environment for both professionals and non-programmers to rapidly develop and embrace deep learning models for effective business outcomes. Connect with us for a consultation or to learn more about machine learning API services for your business.
---