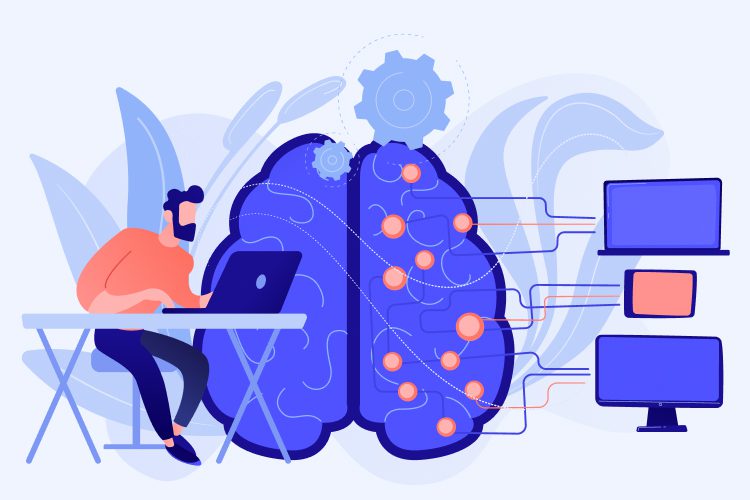 Disruptive Machine Learning Trends For 2022
Machine Learning (ML) is one of the most disruptive trends of all time. With an increasing number of organizations indulging it today, Machine Learning (ML) technology is becoming one of the most powerful applications. While businesses are adopting transformation, it subsequently is speeding up the growth of ML and other supporting tools of ML. As growth continues through 2021 – here, we present a few Machine Learning API trends that are promoting industrial digital transformation.
What Next In The Machine Learning Journey?
According to Gartner, there are around 37% of companies, which are using an ML application within their operations, and they expect this growth will continue to 80% by the end of 2022. The recent advancements in Machine Learning and Artificial Intelligence are creating a surge in the demand for these technologies across the enterprises willing to meet functional objectives. The shift, among the enterprises in indulging the machine learning API to ease futuristic tasks, is bringing in newfound opportunities to scale the current market niche.
It is always interesting to predict future possibilities of evolving technologies and building strategic action plans on how a business entity can apply these advancements to accomplish the essential business objectives. The recent pandemic-induced changes opened up avenues on how companies reconfigure their operations-and germinate an opportunity to transform them. The upcoming research advancements in the space of Machine Learning promote innovation and strengthen the core of business forecasting and analysis capabilities. Below listed are a few ascending trends:
ML in Hyper Automation
Hyper Automation is a mega IT-trend identified by Gartner's research firm. According to Gartner, hyper-automation is the term used to define the possibility to transform anything within an organization's architecture. This trend is followed by advancements in 'digital process automation' and 'intelligent process automation'. According to research, Artificial intelligence and machine learning are the key factors that are driving hyper automation. By adopting this machine learning trend, businesses can seamlessly tackle changing market conditions and their consecutive circumstances.
Data Forecasting and Analysis
Machine learning and deep learning are the major streams for data forecasting and analysis. In recent years, the increased usage of time series forecasting techniques helped many researchers and organizations in predicting the accuracy of around 95% by utilizing diverse data sets in delivering data-driven decisions. And in the year 2021, researchers take these beyond by using recurrent neural networks for high-fidelity forecasting. These advancements can add an advantage to discover the hidden patterns in data for accurate forecasts. And this trend will transform every organization dependent on future forecasting to build reliable business architecture.
Quantum Computing
We know tech giants like IBM, Google, and Microsoft are racing to build reliable quantum computers. With advancements in research like artificial neural networks and cloud-based machine learning solutions, they are addressing a good scope to scale the transparency and explainability concerning AI algorithms. Algorithmic breakthroughs continue to strengthen and help researchers in building alternative solutions for problem-solving. And in the coming year, we may hear a piece of good news about quantum computing.
The intersection of ML and Computer Vision
Computer Vision has been a quickly developing segment recently Grand view research reports state they expect the global computer vision market size to reach USD 19.1 billion in income by 2027, at an expected CAGR of 7.6% from 2020 to 2027. And the growth is promoted by organizations that are launching intelligent systems powered by computer vision to perform seamless operations. Machine Learning, Artificial Intelligence, and Deep Learning are forefront technologies that power computer vision. APIs are building reliable real-world use cases that drive business objectives and economic growth. Here are some computer vision trends for 2021 that are powered by ML.
ML at edge
During the pandemic, we have seen a growth of IoT connected devices and it is expected this segment will grow substantially in 2021. One of the major factors for the growth of indulging IoT is the promotion of remote work. The end-devices that connect with the internet and cloud are going to drive this revolution in 2021. Cloud-backed ML performs reliable data processing tasks to tackle device latency. Edge computing and devices powered by smart computer vision have multiple applications across different business sectors.
Emotion AI
Real-world applications like body posture detection, facial expression recognition, and iris scanning in real-time or from photographs and videos are a few successful applications of emotion AI. The ability of computer vision tech to detect changes in facial expressions is leading the revolution and helping customer based business in building state-of-art strategies for product/service development and providing an expected customer experience.
Computer Vision as a service
Machine Learning powered computer vision applications like image classification, object detection, OCR, image segmentation, etc., are automating a vital piece of business automation. The CV models, when embedded in noteworthy devices, are providing end-to-end solutions for both businesses and governments. Computer vision as a service is evolving, and many startups are offering this technology to build smart and self-reliant future applications.
Embedded vision
Embedded vision is the concept that incorporates the image capturing and processing abilities of a single device. Computer Vision technology integrated with Machine Learning neural networks has led to several modern applications that demand inspection services and quality control. Embedded vision automates the operation process and reduces the overall cost of the operation.
Mixed reality
Mixed reality is beyond virtual reality and augmented reality technology. The evolution of mixed reality in 2021 will be a game-changer. The next-phase is the advancements of computer vision driving the AR and VR is called Merged Reality or Mixed reality. The research in mixed reality is still in the prototyping phase, and we will see some more advancements around this in 2021.
Machine Learning and Reinforcement Learning
We can say, this year Reinforcement Learning will see a major advancement. Reinforcement learning is performance carried by software to enact with-in various conditions and characteristics to self-learn from the different actions and results to meet the primary objective of an assigned task. The best illustration will be tasks carried out by a chatbot. For instance, identifying prospective customers, and moving calls to a customer service base, robotics for business strategy planning, robot motion control, industrial automation, self-driving vehicles, and aircraft control.
The year 2020 is not only about global events but also the evolution of technology. Importantly, AI, ML tools, resources, and information. In the above article, based on our research, we have written about a few predictions and trends in machine learning that might unfold in the new year.
---